Oatmeal-Pecan Lace Cookies
Brenda.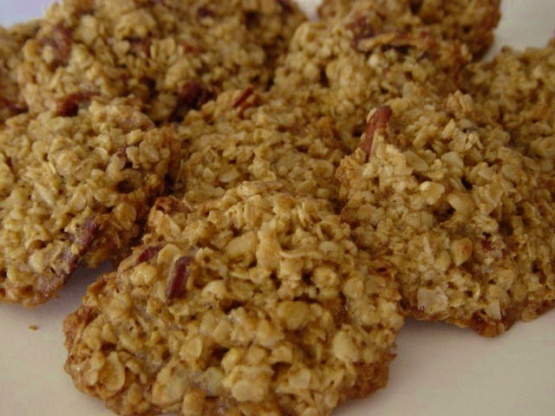 Recently received this recipe from Weight Watchers and had to give them a try. These tiny crisp cookies are perfect for satisfying a sweet tooth. These are reminiscent of Roosie's wonderful Oataroons Oataroons, but with a buttery chewiness. 2 WW points per serving.

I was going to post this until I saw it already listed. My sister-in-law sent this recipe to me. I did not have parchment paper so I used waxed paper. I lost two batches becuse of my oven temperture. The rest turned out okay with 9 minutes in the oven. Also, like Roseflr my first batch crumbled because I didn't let them cool long enough. After cooling I just lifted the corner of the waxed paper and peeled the paper away from each cookie. I also made them gluten free by using g/f oatmeal. Thanks for the recipe.
Preheat oven to 350ºF and prepare 2 cookie sheets with cooking spray or a layer of treated parchment paper.
Mix oats, sugar, baking powder, pecans and salt together in a large bowl until well incorporated.
Add butter, egg and vanilla to oat mixture;and mix well. Allow "batter" to stand for one minute.
Drop teaspoonfuls (not tablespoons) of batter onto cookie sheets and flatten each out, leaving 2-inches between each cookie. (They spread quite a bit while baking.)
Bake cookies until edges turn golden, about 9 to 12 minutes, and remove from the oven. Let cookies sit on on cookie sheets for 2 minutes before removing to a cooling rack.