DuChick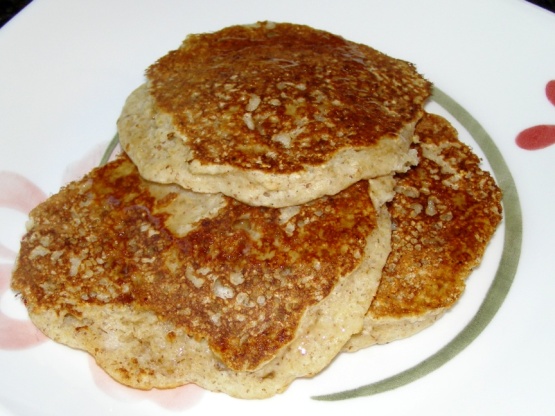 Healthy pancakes that will fill you up!

I'm trying to cut back on flour and sugar to lose weight and since I'm a long-time pancake lover, this recipe tempted me. I cut the ingredients in half to give it a try and I was incredibly surprised! The edges were crispy and the insides were tender and light. I did add a sprinkle of salt, but changed nothing else. Topped with a squirt (or two) or sugar-free syrup, I had a delightful breakfast! Thanks Cooking B!
Place dry ingredients in blender and process until the oat flakes become fine. Transfer dry ingredients into medium bowl. In a separate bowl, lightly mix liquid ingredients, then add to dry ingredients, mixing only until moistened. Let batter stand 5 minutes, the spoon batter onto preheated griddle for cooking. Turn pancakes when edges are firm.