Oatmeal Muffins (No Flour at All!)
fawn512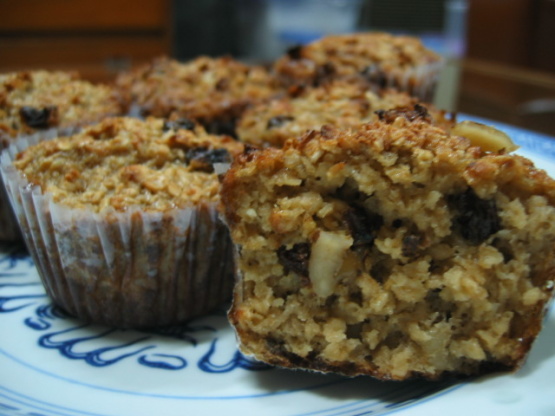 You can use bananas instead of the nuts and raisins

If you were expecting actual muffins of some kind, this is a one...if you were expecting baked oatmeal in a cup, it would be higher....actually 'undercooked' oatmeal in a cup, since the author didn't specify to use quick oats, one usually assumes that means whole. It does not hold together. If you want an actual muffin, try pulsing about half the oats in your food processor to make a flour, and cut the honey in half and replace with brown or rapadura sugar, (or entirely with). You might get something closer to an actual muffin you can eat in your hand. Luckily, I was able to fiddle around and use the mess to make a soft granola bar for my son's lunch box. Not the way I had planned to start my day when I just wanted a quick muffin recipe, however, it worked out fine in the end.
Pre-heat oven at 450°F.
Cover 12 muffin bowls with oven-safe paper.
On a big bowl, mix oatmeal, nuts, raisins, baking powder and salt (if used).
Add the rest of the ingredients and mix til you have an even mix.
Put the mix on the muffin bowls and fill 3/4 of each one.
Bake for 13-15 min or til golden.