Kid-Kat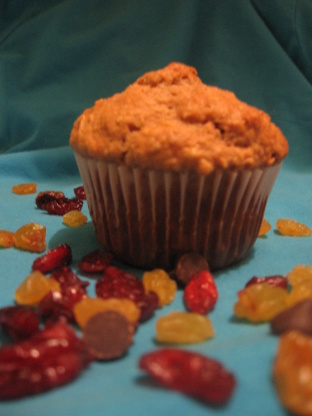 This is an adopted recipe from the Great Adoption Feb 2005. I've finally tried it out on 15 Nov 2005. I have halved the salt as I found it a bit too saltish but other than that,and the optional ingredients, everything else is the same.

The recipe is very good as written, but I had to made some change. The first time time they didn't rise very high, so the second time I used 2tsp of baking powder along with the baking soda. Also swiched the butter for 1/4 c. of oil (I don't cream it, just mix the oil with the sugar). Much better the second time (and healthier!) :) I'm sure raisins will be awesome in it, but my sister is a raisin-hater...(what's wrong with her?) I have made some in greased tins and some with paper cups. Believe it or not, but the ones with paper rose much higher than the other in greased tins. This make 12 large muffins. P-S: I don't know if it is what Judy means, but buttermilk isn't butter at all!
Combine oats and butter/sour milk in small bowl.
Mix well and let stand 1 hour.
Sift together flour, baking powder, baking soda and salt (and cinnamon if using); set aside.
Cream together butter and brown sugar (and zest, if using) in mixing bowl, using electric mixer at medium speed.
Add egg; beat until light and fluffy.
Add dry ingredients alterantely with oat mixture to creamed mixture, blending well after each addition.
Spoon batter into greased 2 1/2-inch muffin-pan cups, filling 2/3rds full.
Bake in 400 degree F. oven 20 minutes or until golden brown.
Serve hot with homemade jam or preserves.