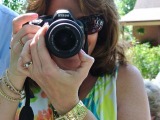 A moist, very tender muffin that we all enjoy. I eat mine plain but they are also good with butter or jam. It is surprising how tasty they are without any spices, flavorings or zest but the buttermilk and oats really give this muffin its flavor. Please note that the oats need to soak for 1 hour before preparing the muffins so I've included that in the prep time.
Directions
Soak oatmeal in buttermilk 1 hour; add egg and beat well.
Add sugar and mix.
Add cooled shortening.
Add flour sifted with salt, baking powder and soda.
Bake in greased muffin pans in hot oven (400 degrees) 15 to 20 minutes.