Ms. B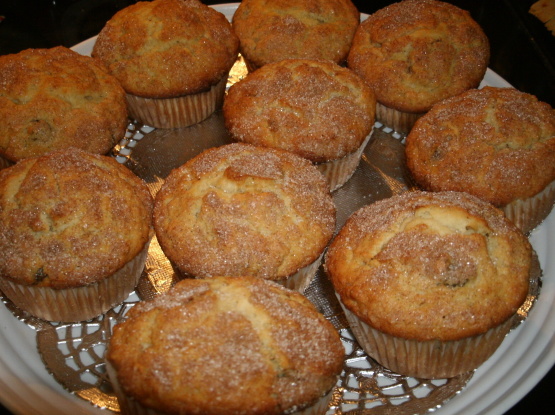 These muffins have an excellent taste and texture. They are wonderfully moist and soft inside. They are perfect for breakfast: a couple of them keeps me going the whole morning. They can be frozen and come out of the freezer just as fresh as from the oven. I found this recipe in Internet several months ago and I made little changes on it until I got the perfect muffins for me. I hope you will enjoy them as well! In the preparation time I don't include the time while the oats and the sour milk are standing in the bowl (1 hour).

Top Review by Ms. B
These Oatmeal Muffins are good, the texture of mine were really light and easily crumbled. I made 12 muffins from the recipe, topping 6 with cinnamon, sugar, and oatmeal; and the other 6 with a strudel topping. I added raisins soaking them with the oatmeal and milk to plump them up a bit. All in all a good recipe.
Combine oats and buttermilk or sour milk in a bowl, mix and let stand 1 hour.
Sift together flour, baking soda, baking powder and salt.
Cream together butter and sugar with an electric mixer.
Add the egg and beat until light and fluffy.
Add to the flour mix and stir.
Add the oat and sour milk mix and stir until just combined.
Fill a greased muffin tin (mine is for 12 small muffins, 2 and 3/4 inches in diameter in the widest part).
Top with a little cinnamon sugar if desired.
Bake at 400o Farenheit for 20 minutes.
The muffins are ready when a stick inside them comes out clean.