Oatmeal Molasses Drop Cookies
flower7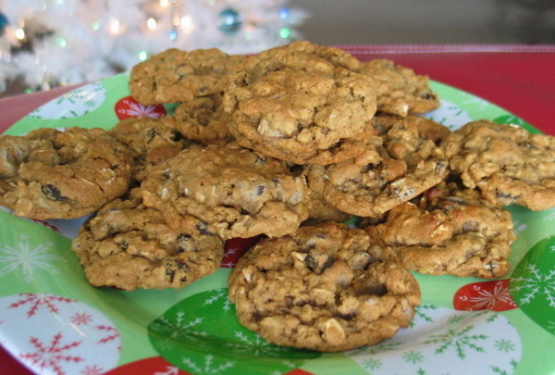 I *love* these cookies! They are chewy, chunky, spicy, and delicious! The recipe originally came from Betty Crocker's Cooky Book and were listed as "The Best Cooky of 1900-1910". For a change, try substituting cut-up dates or other dried fruits for the raisins. NOTE: If you replace the shortening with butter as many reviewers have done, you will probably get a crispier vs. chewy cookie.

Top Review by Doughy
So good, my friends call me Betty Crocker so it seems to fit! I am trying to bump up my son's iron intake so I used blackstrap molasses and whole wheat flour. I didn't use the chocolate chips, I didn't have any. I think my iron is going to be up too!
Preheat oven to 400°F.
Beat shortening, sugar, eggs, and molasses thoroughly.
Stir dry ingredients (flour-cinnamon) together and blend into wet ingredients.
Stir in oats, raisins and chocolate chips.
Drop dough by rounded teaspoonfuls about 2 inches apart on a lightly greased baking sheet.
Bake 8-10 minutes or until lightly browned.
Note: When I used a 1 1/2-inch wide cookie scoop, I got 3 1/2 dozen cookies.