Oatmeal Molasses Bread - No Yeast Quick Bread
Nikoma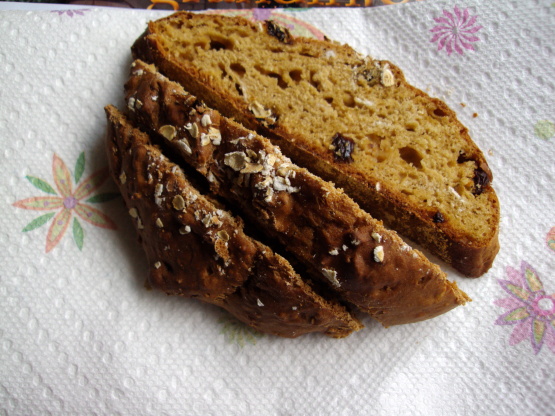 This is a dark "quick bread" that is fast and easy to prepare. Because it doesn't use yeast, you don't need to knead it or let it rise. Don't be put off by the long list of instructions. It's just that the recipe is very detailed. I am not a breadmaker and managed this recipe quite successfully. From Cooking Light, October 2002. This was published as part of an article pairing soup recipes with bread recipes. The "partner" for this recipe is Mexican Ham and Bean Soup, which is also delicious. This is also nice spread with a little butter for breakfast.

I enjoyed making this quick bread...the only thing I would do next time is to sift the flour mixture. I think it would come out lighter but other than that it was very tasteful and easy to make. Will try this again..thanks
Preheat oven to 400°F.
Combine milk, oats, molasses and oil in a bowl.
Measure flours by lightly spooning into measuring cups and levelling with a knife. As you may know, "scooping" flour will cause you to use too much.
Whisk or sift together flours, sugar, salt, baking powder and baking soda.
Add wet mixture to dry mixture and stir just until combined.
Add raisins, stirring "until the dough pulls together in a shaggy mass". The original recipe suggests a wooden spoon for this.
Split dough in half. With each half, turn out onto a floured surface and knead for 1 minute. Expect the dough to be sticky and wet. Form into a 6-inch round loaf and place on a baking tray sprinkled with cornmeal.
Make 3, 1/4 inch deep, diagonal cuts across each loaf.
Bake at 400°F for 20 minutes, then for 15 minutes more at 375°F These loaves will look browned before they are actually finished, so test for doneness by "knocking" on the bottom of the loaf. It will sound hollow when finished.
Let stand about 15 minutes before slicing to serve.