Brenda.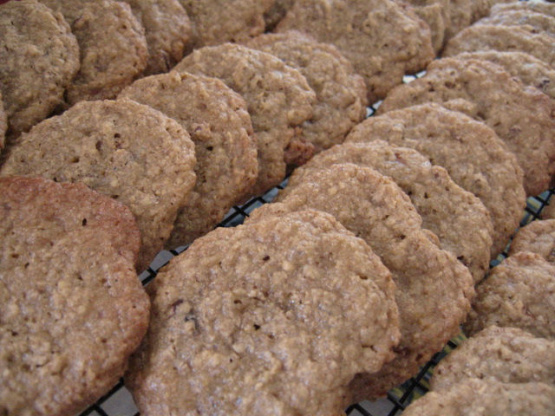 These cookies are tasty, thin, and crispy. This recipe is the easiest I have tried. Almost fool proof (unless you over bake them).

These are yummy! I have to agree with one reviewer that the "dough" was way too soft. As a precaution I did grind up an extra 3/4 cup of oats and left them off to the side until everything was mixed up. I added the extra oats and 1/2 chopped pecans- YUM! The sweet brown sugar taste was delicious in these chewy cookies. I used parchment paper to line my pans and then cooled the cookies on the pans for about 4 minutes. They lifted right off. Made for Spring PAC 2009
In a blender or food processor, blend 1 cup quick oats to a flour like consistancy.
In a mixer, combine:oat flour" and brown sugar.
In a separate bowl combine egg, vanilla, butter, and salt, mix well.
Slowly pour"wet" mixture into"dry" mixture, mix to a thick batter consistancy.
Stir in remaining 1/2 cup oats, mix well.
Drop by level teaspoonfulls onto greased cookie sheet about 2-3" apart (do not put them any closer, they spread very thin).
Bake at 350 for 8-10 minutes, or untill edges start turning golden brown.
Remove from cookie sheet while still warm (do not leave them on cookie sheet, or they will harden to the bottom and you will have to re-heat them to soften them) and transfer to a wire cooling rack.
Re-grease pan each time.