PanNan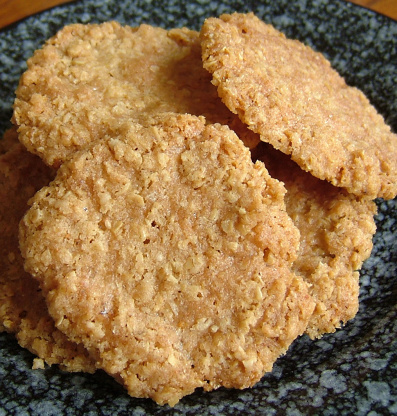 These cookies are are more like sweet "crisps". They are thin and crispy, and have a noticable buttery flavor. Wonderful served with a fruit or cream type dessert. My favorite is ice cream. YUM!

After baking the cookies, they did soften to much so they weren't cookies but more of a pie, however, they still tasted good.
Preheat oven to 375.
Beat sugar and butter until well blended.
Beat in flour, vanilla and salt.
Stir in oats.
Form into a ball. (See photo).
Cover and refrigerate cookie dough 1 hour.
Line 2 baking sheets with parchment paper.
Roll dough by tbsp full between palms into one inch balls. (I cut the dough ball into 24 equal portions, and then roll each portion into a ball.).
Place dough balls on baking sheets, spacing 1 1/2 inches apart (cookies will spread during baking).
Using bottom of drinking glass as aid, flatten cookies to 1 1/2-inch rounds. (See photo).
Bake until cookies are golden brown, about 12 - 13 minutes, turning the cookie sheet once mid-way through baking.
Let cookies rest on sheets 1 minute.
Using spatula, transfer cookies to a rack and cool completely.