fawn512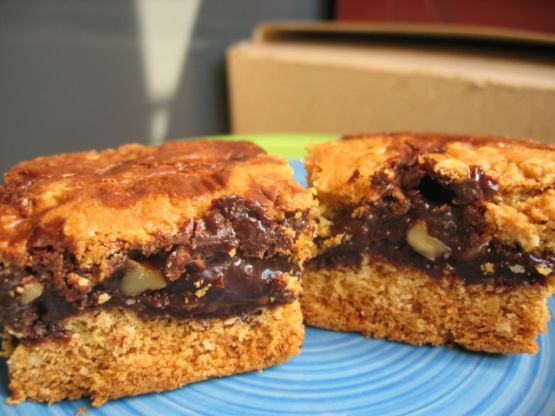 A delicious chocolate fudge layered between oatmeal cookie dough. Easy and so yummy! From Lion House Cookbook.

Top Review by Leanne
i made this yesterday for a candle party I was hosting, and I didn't have enough dough/batter to drop onto the top. I had a little left but found i needed more of it just to fill the bottom of my pan. Mine set ok was kinda messy and very dry on the bottom I wasn't sure if it was done so I might have over cooked it. It was still a hit and got eaten right up, I am just not sure if I would make it again.
Grease a 9x13 baking pan; set aside.
In a large bowl cream butter and sugar; add eggs and vanilla.
In a small bowl, sift flour, baking soda, and salt; add to creamed mixture. Mix in oats.
In a heavy saucepan, mix sweetened condensed milk, chocolate chips, and butter; heat just until melted. Stir in vanilla and nuts if using.
Spread 2/3 of the oatmeal dough (will be stiff) into prepared baking pan. Spread with chocolate mixture. Drop remaining 1/3 of dough on top by spoonfuls.
Bake at 350°F for 25 minutes. Allow to cool completely (if you cut them while they are still warm at all they will be gooey and fall apart), then cut into bars.