Oatmeal-Fruit-Nut Bars (From Sara Snow)
luvcookn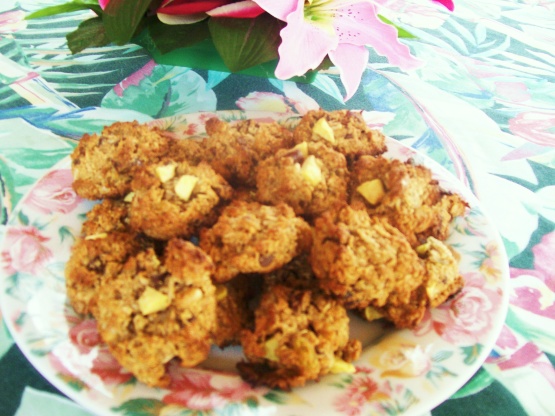 This is a great (healthy) recipe for oatmeal bars. It's also great with some dark chocolate pieces.

These are every bit as good as I thought they would be. Don't know why no one has reviewed these yet. I made them like little cookies. Not at all sweet but packed with lots of gooda things. I used brown sugar instead of white...personal preference. Thank you so much for sharing this wonderful recipe. Will be making these again. I made these for Spring PAC 2010.
Stir together dry ingredients (flour, salt, baking soda and spices).
In a mixing bowl, beat butter and sugars. Add in honey, eggs and vanilla. Slowly add in dry mixture and beat together. Stir in oats, applesauce, coconut, fruit and nuts.
Drop spoonfuls onto baking sheet; bake 12-14 minutes at 350.
OR, if making bars,.
Spread evenly into a large, glass baking pan; bake 20-25 minutes.