loof751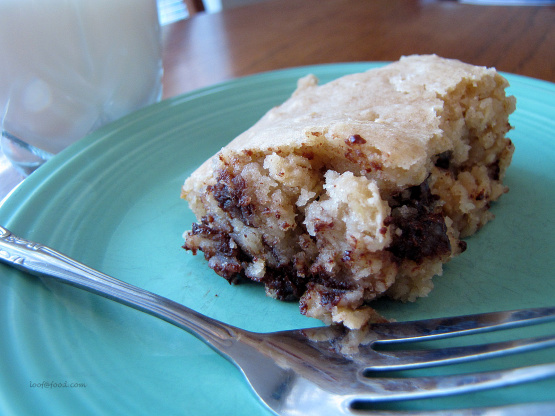 These chewy treats make a substantial snack or hearty breakfast. I found this recipe in Home Cooking magazine. I have not tried this recipe, but I'm posting it for safe keeping. I plan to use Splenda for baking for the sugar. I also plan to use sugar free chocolate chips.

This was really a nice surprise - so easy and so tasty! I made half the recipe; it came out more like a cake than what I would call a bar but very moist and delicious. The peanut butter flavor is there but it doesn't overpower. Tasty breakfast or snack cake made with staple ingredients - thanks for sharing this recipe!
Preheat oven to 350.
Coat a 9x9-inch baking pan with oil.
Stir or beat together flour, oats, milk, butter, vanilla, sugar, peanut butter and water; fold in chocolate chips.
Spread in prepared pan.
Bake 25 minutes.
Cut into bars.