Oatmeal Cranberry Almond White Chocolate Chip Cookies
jak9173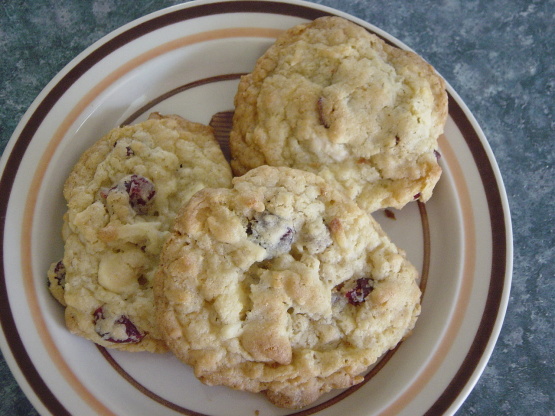 Initially I was going to back away from this recipe due to the number of ingredients but then I read them again and realized that I had almost all items on hand. The recipe came together so quickly and easily, even with the number of ingredients you must add in. I also put in a quarter teaspoon of cinnamon because I love that combination with the oatmeal. Had to leave out coconut and nuts due to preference/allergies of those who would be eating the cookies,but will include them when I make again for home. Flavor was delightful, the almond extract is really a plus with the vanilla. My only problem and reason why the recipe did not receive 5 stars was in the actual baking, the cookies spread quite a bit, ended up very flat. Next time I will chill dough for a few hours and see if results differ. Very moist and a rich flavor, unlike many cookies of this type that tend to be dry or cakey. Definitely recommend, especially if you are an oatmeal/cranberry fan like I am!!!
Preheat oven to 350°F
Cream together white and brown sugar, margarine, vanilla and almond extracts.
Beat in egg.
Mix in sifted flour, baking powder and soda, salt, oats and coconut until combined.
Stir in dried cranberries, almonds and white chocolate chips.
Drop slightly heaped tablespoons of dough on a sprayed SHINY baking sheet.
Bake 10 to 12 minutes depending on your oven. Should be evenly golden in colour.
Remove to cooling rack.
Freeze really well.