Oatmeal Craisin Cookies (World's Best!!)
doedekay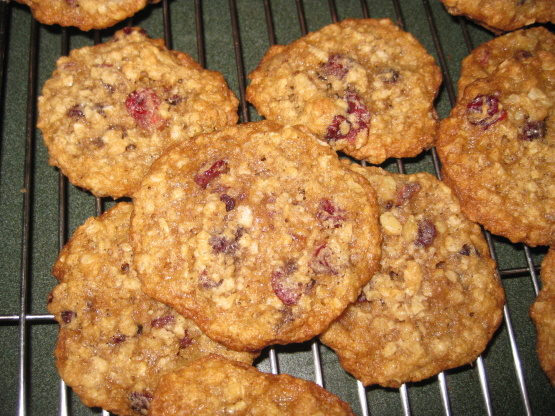 I took a standard Oatmeal Raisin Cookie recipe and modified it to my liking. These cookies are ALWAYS a HIT!
I made these for a Diabetic, so I had to alter the recipe a bit. In place of the 3/4 cups white sugar, and 1/4 cup brown sugar I did the following :: 3/4 cup Organic Coconut Sugar, 1/8 cup Truvia Baking Blend and 1 Tbsp Organic Light Agave Nectar.<br/>I also let the dough cool in the fridge for about 30 minutes before I formed it into balls and cooked. They were perfect, and amazing! and thanks to the substitutes, only 19 carbs per cookie (when yielding 22 cookies like I did.)
Preheat Oven to 375°F.
In a large bowl with an electric mixer combine, sugar, brown sugar and butter and mix well.
Add in egg and vanilla and mix until combined.
Add in cinnamon, baking soda, salt and flour and mix well.
Fold in by hand the oatmeal, walnuts, and dried cranberries making sure that all ingredients are uniformly distributed.
Roll dough into 1-inch balls and place 3-inches apart onto a greased cookie sheet and bake for 10-12 minutes, just until the edges are lightly golden.
Remove from oven and let cool for 2-3 minutes on the cookie sheet.