Oatmeal Cottage Cheese Pancakes
Ashley Cuoco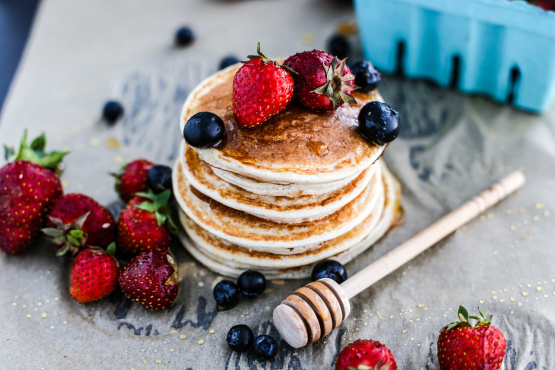 These are wonderful and are almost too healthy to be true. Lots of calcium, protein, fiber, etc. I usually eat them without any topping and just keep popping them in my mouth! Yum. But a good jam will do them nicely as well.

A few years ago I followed a recipe for cottage cheese pancakes that used whole wheat flour. I was searching for that when I found this recipe. I don't even want the other one anymore!

I used modifications suggested: two whole eggs instead of whites, and added a bit of cinnamon. While making them, I forgot I was supposed to blend it all and just mixed it in the bowl by hand, which still worked fine.

Thanks for this new favorite!
Blend all ingredients in blender.
Spray skillet with cooking spray and cook just like"silver dollar" pancakes, a few small ones at a time.
Top with your favorite pancake topping!