Oatmeal Cornbread Muffins
zetaarae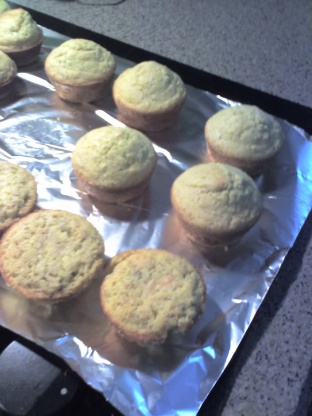 Crunchy outside, moist inside, tasty and healthy. Who doesn't love a good corn muffin?

I follow a wheat-free sugar-free diet so this recipe is perfect (replace sugar with Splenda). I often times want a bread product and not being able to have wheat makes that very difficult. These muffins are hearty and tasty and inexpensive to make, especially when compared to the expensive specialty flours I usually buy when making wheat-free products. They are best eaten hot from the oven. They can be frozen and reheated but are not as fresh and crunchy.
Preheat oven to 400.
Mix together oats, cornmeal, baking powder, seasoning, and salt.
In another bowl, beat the eggs then add the milk and oil.
Add the sugar and mix well.
Pour the egg mixture into the oat mixture and stir to just lightly combine.
Pour into sprayed muffin tins and bake for around 20 minutes.
Don't use muffin or cake wrappers in your tins or the outsides of your muffin won't get that nice crunchy outside.