Oatmeal Cookies (Raw Vegan)
emma.scholes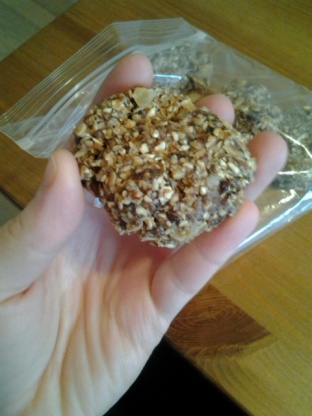 We all love this recipe, especially my 6 year old daughter. We often have these for breakfast, so much better for you than processed cereals. This recipe is inspired by Juliano's recipe, but is quite different.

I don't have a dehydrator, but decided to just have the batter as granola, as someone else suggested. When I first made it, it seemed tooth-curlingly sweet, but after sitting in the fridge overnight, the agave seems to have made its way through the nuts and oats, and now it's just right. Thanks!
2

cups oats (groats, whole)
1⁄2 cup almonds
1⁄2 cup raisins
1⁄2 cup agave nectar (or maple syrup)
1⁄4 cup cashews
Put oat groats in food processor and grind until fine. Transfer to a mixing bowl.
Put almonds in food processor and pulse a few times to chop them until just coarsely chopped. Transfer to bowl with the oats.
Add raisins and agave nectar to bowl and mix everything well.
Grind cashews in coffee grinder, and use this to coat your palms as you handle the cookie batter.
Take small chunks of dough and flatten into rounds on the mesh sheet of a dehydrator tray.
Dehydrate for about 12 hours on 110 degrees. Dehydrating time needed will vary according to how thick you've made the cookies, and the desired chewy/crunchy-ness. :).