Derf2440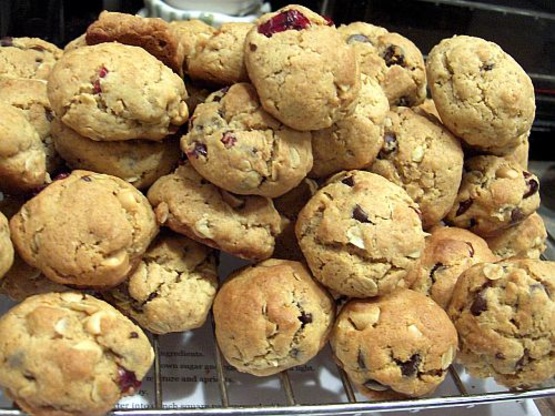 A healthier alternative to traditional oatmeal cookies adapted from Bon Appetit, Dec. 1986 is a favorite among children and adults.

This was a very easy, delicious cookie. I used quick oats (it was all I had) and omitted the chocolate chips. The whole wheat flour and wheat germ added a nuttier flavor. I found that if you make larger cookies (use 1-2 tablespoons, instead of teaspoons) the cookie keeps it shape - the smaller cookies flatten out and tend to burn quickly - and also is more chewy. Great recipe and I really enjoyed it. I plan on taking the rest to work so I do not eat them all!
Preheat oven to 350°F.
Cream butter or margarine with sugars in large mixing bowl.
Stir in eggs and vanilla.
Stir in dry ingredients (flours-salt) until blended.
Add oats and wheat germ, stirring until combined.
Stir in chocolate chips, raisins and pecans (if using).
Form dough into 3-inch balls and place on cookie sheets.
Bake 8-10 minutes or until golden brown.