Annacia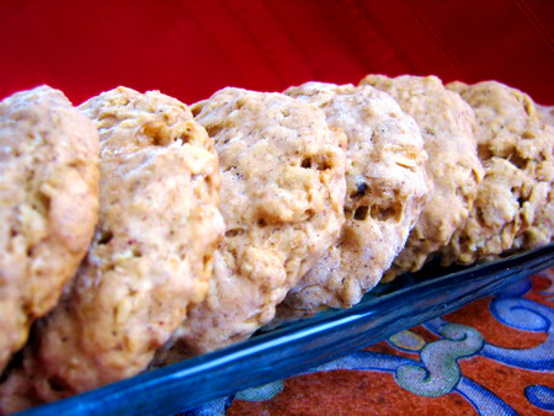 Tasty and soft, these cookies will melt in your mouth and disappear from the plate faster than you can blink. No crunch, just the perfect meld between tooth and cookie. Light hints of cinnamon and very little sugar makes this cookie something else.

I like the texture of these cookies and the fact that they are lower in fat than most. Even so I used 1/2 the amount of margarine with the other 1/2 being made up with applesauce. I thought that they were a bit lacking in flavor which really surprised me with the cinnamon and vanilla, I even added some chopped walnuts. For the brown sugar I used 1/4 cup of Splenda Brown Blend (the proper replacement amount) but I think that I would like them a bit sweeter. While I didn't have any problem with the recipe I do feel that a younger cook who is still learning might as it's not well written. I put the sugar into the liquids first and mixed that in, then the oats and lastly the flour. No extra water was needed. The recipe does not give baking time or temp. 10 mins at a preheated 350 f gave a nicely baked but tender cookie. 24 nice sized cookies was my yield. A glass of cold milk helps them along very nicely *wink*
Melt margarine
Add eggs, cinnamon, baking powder and soda, and vanilla.
Mix in flour in half cup intervals.
Add brown sugar all at once (to help ease the pain of stirring add water, be sure not to add to much water)
Finally, add the oats.