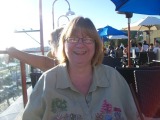 My late neighbour; Anne Shuttleworth gave me this recipe in 1988. She said it was her old "stand-by". It always turned out perfect and everyone enjoyed it.
Directions
Grease 9x9" or 10x10" square baking pan.
Preheat oven to 350°F.
Mix oatmeal with boiling water, and place in fridge to cool.
Beat together butter/margarine, white sugar, brown sugar, eggs and vanilla.
Add in flour, baking soda and spices, beat well.
Fold in oatmeal mixture.
Bake for 50 minutes.
Topping.
Combine butter/margarine, brown sugar, egg and milk, mix well.
Fold in coconut and walnuts till mixed well.
This mixture will be runny.
After the 50 minutes, spread topping evenly on cake and bake another 10 minutes at 350°F.