Oatmeal Chocolate Chip Raisin Cookie S'mores
Rita1652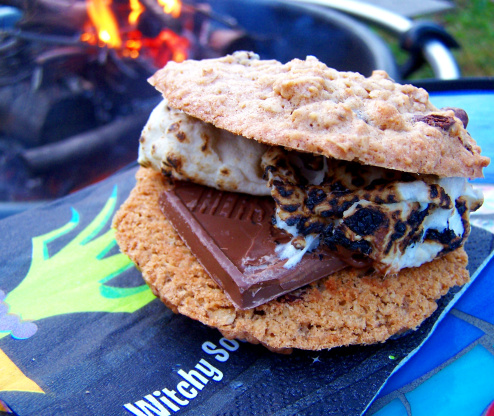 S'more's made with Oats and Smart Balance to help with cholestrol. Used splenda substututing some of the sugar trying to make this not so guilt free. Recipe makes 4 dozen but make extra large for 2 dozen.
Cookies:.
Preheat oven to 350.
Cream sugars and smart balance together till creamy.
Add eggs and vanilla beat in well.
Combine flour, baking soda, cinnamon, salt and mix well into the cream mixture.
Stir in oats,chips and raisins.
Place by rounded tablespoonfuls on to an ungreased cookie sheet pans.
Bake 9-12 minutes.
cool on cookie sheet for a minute then remove and place on wire rack and cool.
Assemble S`mores:.
Place 1 slice chocolate candy of choice on cookies top it with the hot marshmallow and top with an other cookie.
Enjoy this Sinfully yummy treat!
Toast marshmallows till warmed and toasty.