Oatmeal Chocolate Chip Pizza Cookie
ChefDLH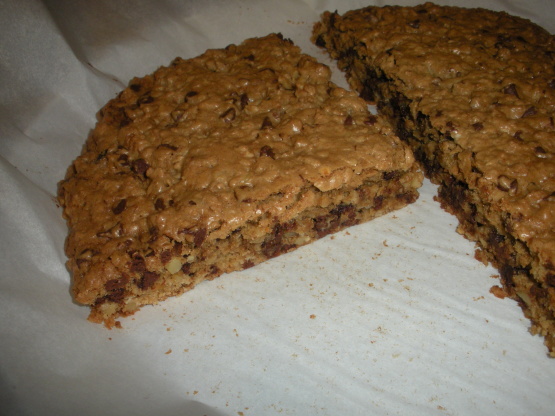 From the moment in 1930 that restaurateur Ruth Wakefield invented the chocolate chip cookie — that's her iconic recipe on the back of the Nestle Toll House package — bakers have played with the proportions and fiddled with the formula. Including us — our 1957 riff on Wakefield's recipe calls for cornflakes, and the cookie here replaces a cup of the flour with oats to make the edge crisp yet keep the center chewy. Supersizing the cookie to pizza proportions is faster — and more fun — than dropping the dough by the spoonful. From Good Housekeeping.

Made this for the family. It is definitely a cute idea for a pizza cookie instead of spending the time making balls or spoonfuls. This had good flavor. Texture is less dough like due to the oats but plumped up to a nice round pizza like circle. Parchment makes cleaning the pizza pan a breeze. We cut it into slices. NOTE: Check the cookie at 15 minutes. Ours was done before the 18 noted here. Thanks for posting Zeecooks! Made for New Kids on the Block Feb 2010. Enjoy! ChefDLH
Preheat oven to 375°F Line large cookie sheet with parchment paper. On sheet of waxed paper, mix flour, baking soda, and salt until well blended.
In 3-quart saucepan, melt butter on low. Remove pan from heat; with wire whisk, stir in brown sugar and granulated sugar until blended. Whisk in egg and vanilla extract. With wooden spoon, stir in flour mixture, then oats, chocolate chips, and walnuts until combined.
Spoon batter into center of prepared cookie sheet. With spatula, spread batter to an even 8-in. round. Bake 18 minutes, or until cookie is golden brown. Let cool on cookie sheet on wire rack 15 minutes. Transfer to cutting board lined with waxed paper; cut cookie into 12 wedges and serve warm.