Oatmeal Chocolate Chip Lactation Cookies by Noel Trujillo
jugglingmom4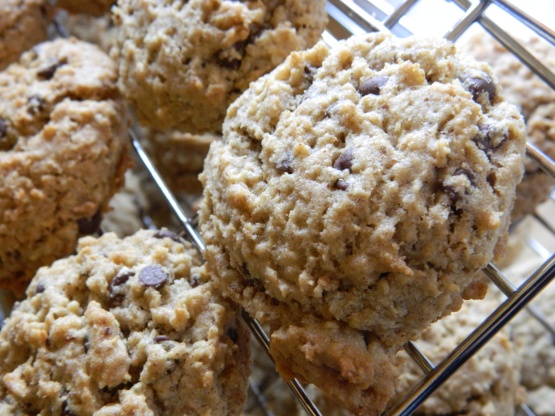 This recipe is great for mothers who are breastfeeding. It helps to keep your milk supply up or increase your milk supply. Use more brewers yeast and oatmeal if you are wanting to increase your milk supply. You can use more chocolate chips if you like or any kind of chips.

These taste pretty good and do boost your milk supply, but it's not the healthiest recipe. I'm a doula and I make some variation of these for all of my moms. I follow the basic recipe, but I always use scant cups of sugars, 4 heaping T. of Brewer's yeast (this is the most crucial ingredient), 2-4T. Blackstrap molasses, half whole wheat flour and half whole wheat pastry flour or oat flour. Depending on what I have on hand and my mom's taste and needs, I usually add walnuts, almonds, cashews, macadamia nuts, pumpkin seeds, dried fruit, hemp seeds, carob, almond butter, spirulina, sesame seeds or any combination of the above. I also add ginger if a mom has slow letdown, but only if she didn't have significant blood loss after the birth since ginger is a natural blood thinner. If it's been a few weeks since she gave birth and her bleeding has stopped, ginger is fine. I have added fenugreek to the recipe as well, but only if the mom is having serious supply issues. Otherwise, I recommend fenugreek tea since it's milder and easier to control the amount you consume. I've even made them vegan by using Ener-G and vegan margarine and shortening. I think it's a good base recipe and it adapts well. Every version I've ever made has been tasty.
Preheat oven to 350°.
Mix the flaxseed meal and water and let sit for 3-5 minutes.
Beat butter, sugar, and brown sugar well.
Add eggs and mix well.
Add flaxseed mix and vanilla, beat well.
Sift together flour, brewers yeast, baking soda, and salt.
Add dry ingredients to butter mix.
Stir in oats and chips.
Scoop onto baking sheet.
Bake for 12 minutes.
Let set for a couple minutes then remove from tray.