Oatmeal Chocolate Chip Cookies
barndoor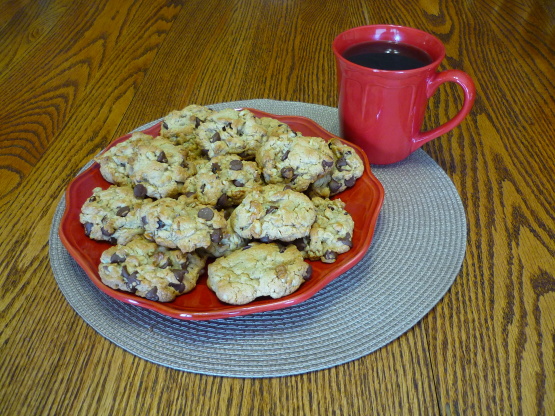 I really wanted to find a cookie recipe like the one my mother used to make for us when we got home from school. Plus I wanted a recipe that I could make with my grandson. Her recipe is lost. But, after tweaking some other recipes, I think I finally got it...hope you enjoy it.
Preheat oven to 375 deg.
Beat together softened Crisco, butter and sugars in large bowl.
Beat in milk, vanilla and egg.
Stir in sifted flour, salt and baking soda.
Stir in chips, nuts and oats.
Drop dough onto parchment lined cookie sheet. (I use two sheets and six drops per sheet).
Bake 10 to 12 minutes or until lightly browned.
Cool 2-3 minutes then transfer to cooling rack or paper towel.