Oatmeal Chocolate Chip Cookies
Sageca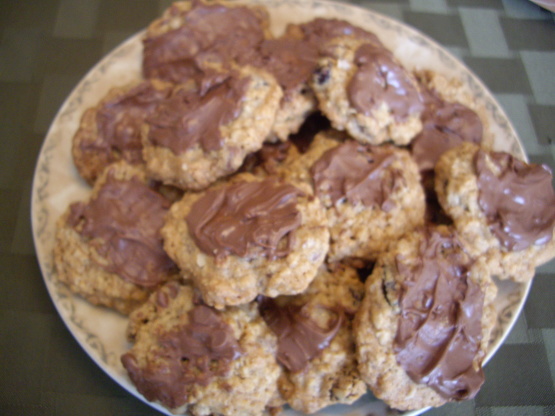 This recipe makes a small batch of wonderfully crispy cookies. If you prefer you can substitute raisins, with dried cranberries, cherries or chopped pecans.
Preheat oven to 375*.
With electric mixer at high speed, beat butter until soft and smooth. Add sugars beating until fluffy; stir in egg and vanilla.
Mix together flour, cinnamon, baking soda and salt.
Beat into creamed mixture on low speed until combined. Stir in oats, then raisins and 1 cup chocolate chips.
Using a small cookie scoop, drop batter on parchment lined baking sheets. Flatten cookies slightly.
Bake about 13 minutes.
Cook cookies on wire rack.
Meanwhile place remaining 1/2 cup chocolate chips in microwave dish and cook on HIGH 30 seconds or until melted when stirred. Spoon on cooled cookies ti make a pattern,.