Oatmeal Chocolate Chip Cookies
lrn2trvl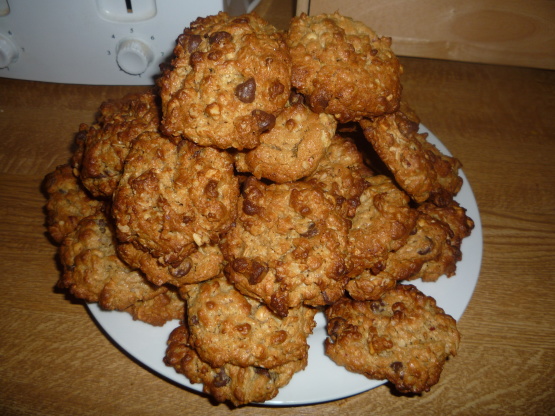 This is my little sister's twist on the original. I believe the basic recipe came from the top of a Quaker Oats package. The coconut and almond butter makes the cookie, but can be omitted
Heat oven to 350°F In large bowl, beat butter and sugars until creamy.
Add almond butter and beat.
Add eggs and vanilla; beat well.
Add combined flour, baking soda, and salt; mix well.
Add oats, choco chips, coconut and pecans; mix until just incorporated.
Drop dough by rounded tablespoonfuls onto ungreased cookie sheets.
Bake 8 to 10 minutes or until light golden brown. Cool 1 minute on cookie sheets; remove to wire rack. Cool completely. Store tightly covered.
Tip: the eggs mix a lot better when they're at room temperature.
Also, the cookie dough freezes wonderfully! Place balls of dough on the cookie sheet and put in freezer for 20mins or until solid/non-sticky, then place in a freezer-bag. No need to defrost before baking.