Oatmeal 'bastard' Cookies
W. Pooh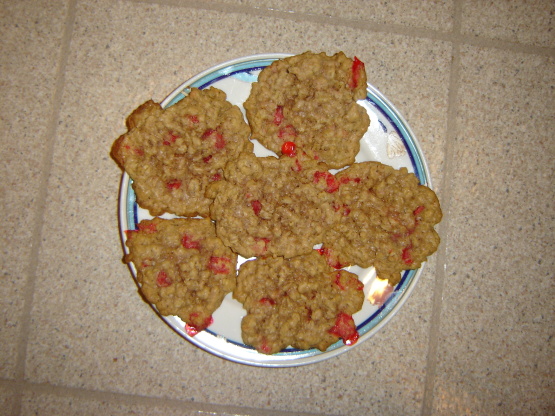 These awesome oatmeal cookies are made with red hot cinnamon hearts candy (also known as cinnamon imperial hearts). Far better than average oatmeal raisin cookies. My friends call them 'bastard' cookies because of the spicy flavor of the candy. You'll never want to eat another oatmeal raisin cookie again.

Top Review by sprue
these were tasty and different.. very addicting. i cut back on the sugar since the other poster said they were too sweet. and they were great. with the red hots in them it makes them very sweet.. i cant say i'd never want another oatmeal cookie with raisons or chocolate. but this was a nice change and made fun valentines day treats. i didnt need to flatten mine AT ALL as they spread perfectly. thanks for a fun idea.
Preheat your oven to 350°F
Grease some of your cookie sheets.
Cream shortening and sugars in a bowl.
Add eggs, vanilla, water to the mixture. Beat until *fluffy*.
Mix flour, baking soda, salt, cinnamon in *another* bowl. Add to first mixture *a little at a time* until a dough is formed.
Mix in your oatmeal and candy.
Spoon onto your cookie sheets. Flatten cookies *slightly*.
Bake for 10-12 minutes or until *lightly browned* all over. Don't forget to turn off your oven.