Oatmeal Banana Bread Cookies
CJAY8248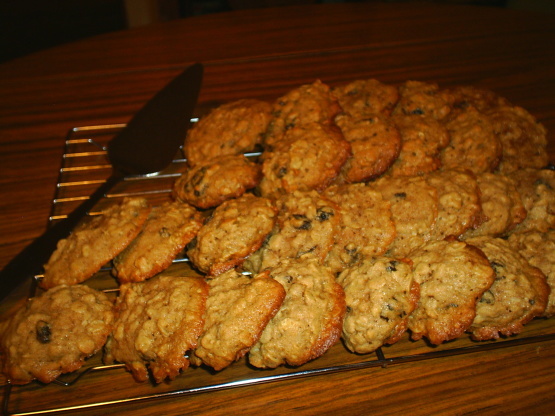 If there are two recipes that should be included in any list of home cooking comfort foods it would oatmeal cookies and banana bread. So, why not combine the two? This is also a good way to take those slightly overripe bananas and turn them from trash to treasure.
Very good! They taste exactly as described. Banana bread shaped like a cookie! I had a completely black banana that needed to be used and I am sure that it improved the banana flavor. I was fighting a time constraint as the cooking deadline was getting too close for comfort, so I only made half of a recipe. Surprise I got 25 nicely domed medium sized cookies when I should have only gotten 18! That certainly never happened to me before. These are simple to make and I will make them again. I noticed that some commented on the softness...well I like crunchy cookies so I left mine out on the cooling rack overnight and they were just the way I liked them. i believe that if the chef changed her ingredient list to reflect using completely dark bananas more people would be happy with the flavor. Also after eating the last one...I decided that the next time I will add about one quarter cup of extra brown sugar since I really like sweet cookies! I still am happy with the recipe however and am delighted to have a good banana cookie recipe to use up all those too brown/black bananas no one ate!
Preheat oven to 350 degrees.
Cream the butter and brown sugar until creamed.
Add the eggs, vanilla and mashed banana and beat again until well combined.
Combine the flour, baking soda, cinnamon and salt in a separate bowl.
Add flour mixture to the beaten mixture and mix well.
Stir in oats and chopped walnuts.
Drop by rounded tablespoons onto cookie sheet.
Bake for about about ten minutes or until golden brown.
Allow to cool for a couple minutes before moving to a wire rack.