Oatmeal, Banana, Applesauce Bars
Nif_H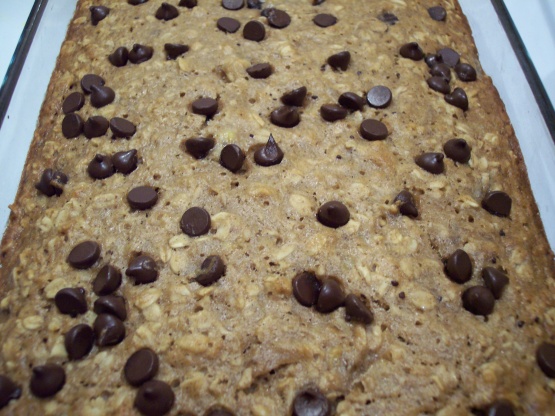 My two year old can't get enough of these.
Followed directions, only added some chocolate chips, maybe that was the problem, but they were falling apart. I suppose you could cut it into bars, but mine simply didn't hold together. Also, the oats didn't soften enough, i think maybe instant oats might have been better, as it is I can feel the oats grating my teeth. Won't make again.
Preheat oven to 350°.
Spray 9x13-inch pan with cooking spray.
Combine: flour, baking soda, salt, cinnamon in bowl set aside.
Combine: sugars, and butter and beat with mixer till well blended.
Add applesauce, eggs, and vanilla beat with mixer till smooth.
Add bananas with mix and mash by hand or with mixer (I've done both).
Stir in flour mixture till just combined.
Stir in oats.
Pour into greased pan.
Bake till golden brown, about 20-30 minutes depending on oven.
Cool and cut into bars!