ran02004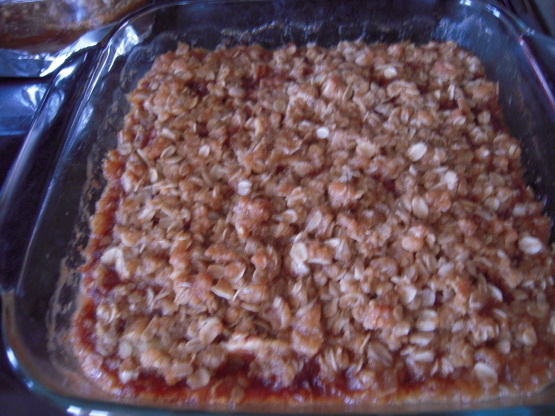 I've been making this (or versions of it) since I was 12 years old. This is an evolved version of the "Quaker Oatmeal Apple Crisp". It is easy to make and to play with, try adding some chopped walnuts to the crisp or use a completely different fruit for the filling, such as peaches. It's great warmed up in the microwave but it's equally good straight out of the fridge. Wonderful comfort food for winter or exam time. Very easily converted into vegan by substituting margarine for butter.

My Boys (big and little) NEVER eat pears or apples but they really gobbled this down, I added 1 Cup walnuts to the topping and added 2 extra pears and 1 extra apple.. OMGosh! Deelish!
While peeling apples and pears, keep them in the lemon juice so they don't turn brown.
Place apples in a greased shallow 9" square baking dish.
Sprinkle (2 tbsp) brown sugar, ground cinnamon, ground nutmeg and water.
Combine remaining dry ingredients in a separate bowl; add melted butter, mixing until crumbly.
Sprinkle crumb mixture on top of the apples.
Bake at 375°F for 30-40 minutes or until apples are tender.
Serve with vanilla ice cream or yogurt, great by itself too.