Redsie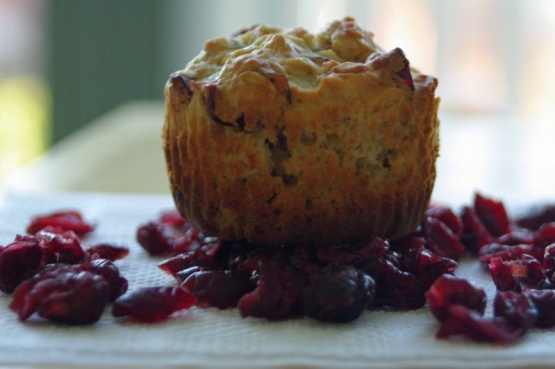 Adapted from the book "1 Mix, 100 Muffins". These are not to sweet - so perfect for a healthy breakfast!

I made these tonight for breakfast for the upcoming week. I doubled the recipe, and used 1/2 dried cranberries, and half dried cherries, and sprinkled generously with cinnamon sugar before baking. They were super simple, went together quickly, and turned out fluffy and delicious. I might introduce another flavor next time, maybe orange, and nuts would be terrific in these muffins as well. Next time, I may add a bit more brown sugar, they were perfect for me, but my daughter likes her muffins a bit sweeter. I will use this recipe a hundred different ways, thank you so much!
Preheat oven to 350°F.
Grease a 12-cup muffin pan or line with 12 muffin paper liners.
Sift together the flour and baking powder into a large bowl. Stir in the sugar, oats and cranberries.
Lightly beat the eggs in a large bowl, then beat in the milk, oil and vanilla extract.
Make a well in the center of the dry ingredients and pour in the beaten liquid ingredients. Stir gently until just combined; do not overmix.
Spoon half the batter into the prepared muffin pan.
Bake in the preheated oven for about 25 minutes, until well risen and firm to the touch.
Let the mufins cool in the pan for 5 minutes, then serve warm or transfer to a wire rack and let cool completely.