Iceland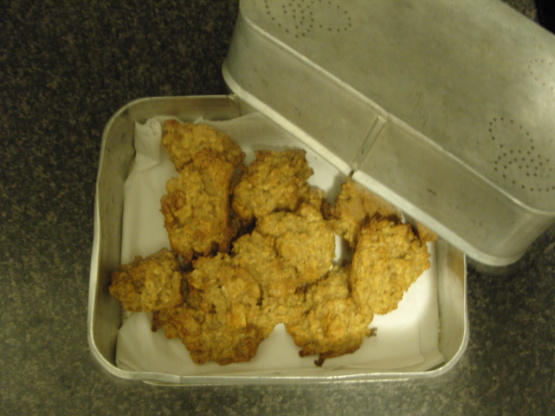 I found this recipe in a magazine i got in a pharmacy in Örebro, Sweden called "Apoteket". I reminds me of our great holiday me and DH had in summer 2009. Note: You can use 1 cup chopped walnuts only or use a mixture of other nuts and/or seeds. I also like pumpkin seeds or sunflourseeds or a combination. Note#2: You can substitute butter and eggs by 1 cup of whey and a dash of milk for a super healthy but though delightful version.

As written, this recipe did not turn out well for me. The first sheet came out completely flat, so I added another 1/2 cup of flour for the second sheet. They came out better, but at 10 minutes they were still wet on top and about to burn on the bottom. The flavor was good, but nothing special.
Mix oats, flours, baking powder and salt in a bowl.
Whip butter and sugar together until creamy, add eggs and blend throughly.
Blend with oats and fold almost all nuts under but save some for decorating.
Put little amounts of dough on a baking tray, i use 2 teaspoons to do so.
Decorate with remaining nuts.
Press down and bake at 330° for 10 to 15 minutes.
Let them cool down on a a baking rack.