PaulaG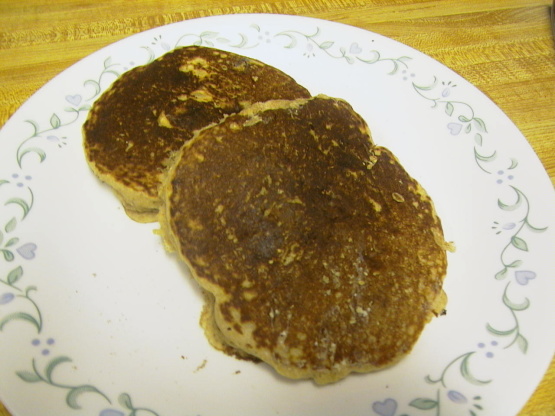 This recipe is from the book "Barefoot in the Kitchen: The Pregnancy Survival Cookbook" by Jennifer Evans Gardner, although, I got it from Taste for Life magazine. I'm not pregnant nor do I intend to be, but these sure do sound good!

Top Review by Bobbin
These were very pleasant and filling. I used whole wheat flour and applesauce in place of the oil or butter. The pancakes were a little thick; so next time I would add a little more milk to thin them out so they will cook a little more evenly. The flavor was great with these, especially when topped with pure maple syrup. Yummmy! I will make these again.
Mix together the flour, oat bran, baking powder and cinnamon in a large bowl.
It's best to do this with a fork because it turns out a bit more like it was sifted, resulting in a fluffier and lighter end product.
In another bowl beat together the egg, milk/soymilk, butter/oil, vanilla and brown sugar until smooth.
Add the wet ingredients (eg the second bowl) to the dry ingredients (eg the first bowl) and mix gently until completely, but just combined.
Fold in the pecans.
Lightly grease a hot griddle or frying pan over medium-high heat.
Spoon the batter onto the griddle (in about 1/4 cup increments) and cook until pancake appears to look more solid around the edges and bubbles form in the centers.
Each side should be golden or golden brown.
Serve hot with maple syrup.