ChefLee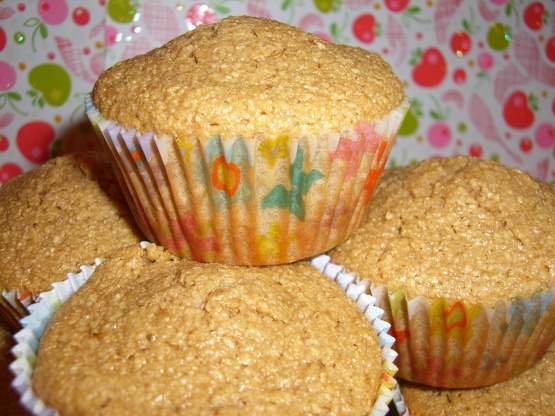 From the back of the Quaker Oat Bran hot cereal box. These are not indulgent, fluffy muffins by any means, but tasty little healthy ones! They make a nice healthy breakfast or snack - I usually make them as a nutritious snack to take along when we are going to be gone and active all day, as they hold up well when wrapped and tossed into tote bags, backpacks, picnic baskets, etc. I usually make mine with the raisins, but I'm sure the blueberries would taste good, too.

Enjoyed these muffins for breakfast today. I used 1 1/2 c oat bran, 3/4 c all-purpose flour, and 1/4 c soy flour and buttermilk for the liquid. Used finely grated carrot for the fruit and added 2 tsp cinnamon. Nice way to start a Sunday. Thanks for posting!
Heat oven to 425*.
Line 12 medium muffin cups with paper baking cups or spray bottoms only with no stick cooking spray.
Combine the dry ingredients; mix well.
Add combined milk, eggs, honey and oil; mix just until moistened.* Fill prepared muffin cups ¾ full.
Bake 15 to 17 minutes or until golden brown.
Yield: 12 muffins.