Katzen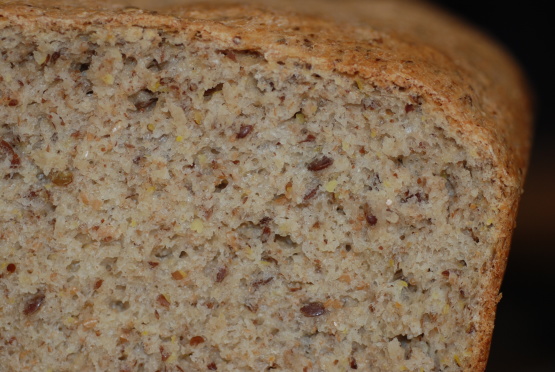 A tasty bread machine health bread enriched by the fiber and nutrition of oat bran and flax meal. Submitted by R. Holland to the AllRecipes.com site. I haven't tried this recipe yet, but it was given good reviews. Posted recipe so I could find it on my favorite website - Recipezaar! ;-)

Turned out great even tho I had to use oatmeal instead of bran. Love it toasted.
Add water, yeast, canola oil and honey to the pan of the bread machine; stir to dissolve yeast. Let stand until creamy, about 10 minutes.
In a large bowl, stir together oat bran, whole wheat flour, bread flour, flax seed meal, wheat gluten and salt. Pour this mixture into the pan of the bread machine. Select Whole Wheat cycle; press Start.
After the dough has risen, remove it from the bread machine and turn it out onto a lightly floured surface. Form into a loaf shape and place in a lightly greased 9x5 inch loaf pan. Let rise until doubled, about 45 minutes. Meanwhile, preheat oven to 350 degrees F (175 degrees C).
Bake at 375 degrees F (190 degrees C) for about 30 minutes or until the top is golden brown and the bottom of the loaf sounds hollow when tapped.