mliss29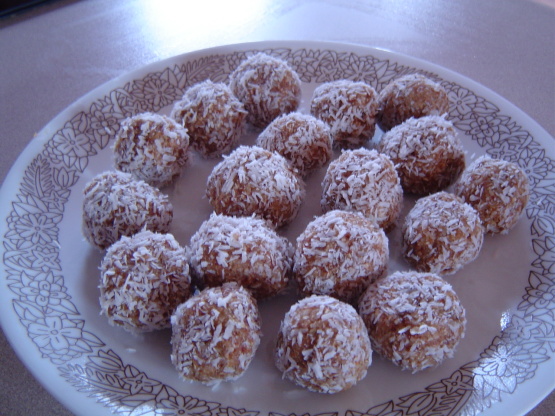 I found this recipe online from the Complete Vegan Cookbook, they turned out great.

These are great! I had a party last night and found out at the last minute that several of the guests have sworn off refined sugar, so I whipped these up and boy were they popular! They took no time to throw together, and I had kids and adults alike fighting over the last one :). I didn't have any dates so I used a combination of prunes and raisins. I also don't have a processor (sigh) so I used a coffee grinder for the oatmeal and a hand blender for the rest. I don't recommend it, but it is possible LOL! I cut the recipe to make 18 (shouldn't have!) and I got 21 good-sized snackers. Also, I forgot to split up the coconut and threw it all in with the mix, but that didn't seem to hurt anything. I tried to roll them in more coconut afterward but I had trouble getting it to stick. THanks so much for posting!
Place 1/4 cup of the coconut on a plate and set aside.
Place the rolled oats in a heavy bottomed skillet and toast for a few minutes, stirring constantly.
When they begin to turn a darker shade of tan at the edges and emit a toasted aroma, transfer the oats to the bowl of a food processor.
Process on high to pulverize them to a fine meal consistency.
Add the remained 1/4 cup coconut and the dates and process to finely chop them, then add the almond butter, sesame seeds, and orange peel.
Add the orange juice and process until things come together to form a homogeneous mass.
Add a bit more orange juice, if needed, to get the right thickness and well blended consistency.
Don't add too much juice; you want the mixture to be fairly dry, not moist and mushy.
Use your hands to form the mixture into balls about 1 1/2-inch in diameter, then roll the balls in the reserved shredded coconut.
Place on a plate and chill for an hour or so before serving.
They're also good, though a bit gooey, when eaten at room temperature.