3 Reviews
I made this for a quick breakfast for my son that wasn't loaded with sugars. I only made 1/2 the recipe. I also reduced the fat by drizzling with only 2 T butter, using turkey bacon (no sausage), using 4 whole eggs and 8 additional egg whites and sprinkling lightly with cheese. I did add an additional light layer of cheese after the dish was baked. Thanks for posting!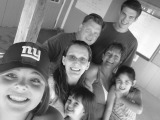 This is a great breakfast casserole. Freezes great too. Pop it out of the freezer and into the microwave for a couple minutes and you have a hearty, delicious breakfast. Thanks!!!
Would not change a thing except adding peppers. It was a huge it and so easy to make. I hand mixed the eggs instead of using a power mixer. Next time I think I will use a different type of cheese or perhaps shred the cheese - Jalapeno, but beyond that it was awesome. I like it spicy, but some people did not like it too spicy.

OAMC-Hash Browns, Sausage, Bacon and Eggs.