HeidiSue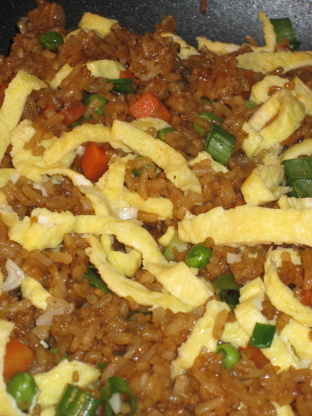 I know there are many fried rice recipes, but here is my own version of a favorite quick OAMC lunch and dinner we all enjoy. I hope you do too! To make it OAMC just portion out one cup of mix into freezer bags, thaw in the microwave for about 2 minutes, then stir fry in some oil for about another 3 minutes to get that "Fried" taste and texture. This recipe makes a TON!

I made as directed but my Jasmine rice package had suggested 6 cups of water vs 8. No matter it all worked out well. Instead of using plain water and bouillon cubes I used a box of fat free chicken broth. For the eggs I used liquid egg whites equal to 6 whole eggs. This will be nice to have on hand for nights when time is short. Really good flavor. Thank You for sharing.
Cook water, rice, and boullion cubes for about 30 - 40 minutes, or until done.
Scramble the eggs.
Mix all of the ingredients together in a large bowl.
Portion into bags for lunches or dinners. One cup servings is what I did. I was able to get one five cup bag for a dinner and 5 one cup bags for lunches.