Annacia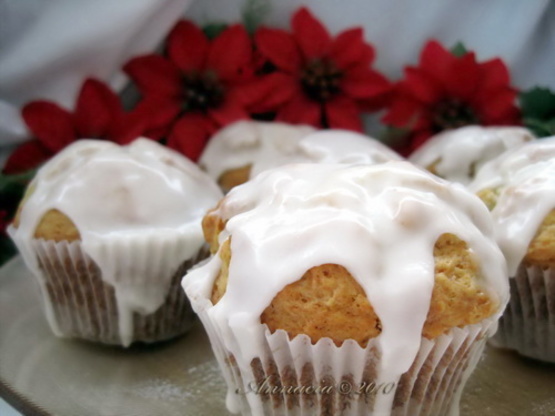 Posted for ZWT6 for the NA*ME Region - mainly Kuwait. I found this on a website dedicated to Kuwait Recipes. The frosting really adds to the depth of flavor of the orange so I highly recommend using it. When juicing your orange make sure to save 1 tsp for the frosting!

I tagged these thinking that I had everything on hand. Well I did but I was about 1.5 Tbsp short on the OJ. Solution: I used Grand Marnier to make up the shortfall in the muffins and for all the liquid in the icing and Howdie Doodie did they come out good! :D. I made them for a friend who's staying with us and he's a fellow who would not love 19 small muffins so he got 6 larger ones out of the recipe. They took about 25-27 mins to bake @ 350. They came out very well indeed and his rating was 5 stars and two thumbs up. Another thing is that they are so quick to mix up you can make them at any time you feel a need for muffins.
In a large bowl whisk together the flour, baking soda, salt, sugar and the orange rind.
Add in the orange juice, egg, and the oil. Stir so that the mixture is moistened by the wet ingredients but don't overmix it; the batter should still be lumpy.
Turn the batter into 18 well oiled or lined muffin cups and bake at 400 degrees F for about 20 minutes.
When muffins are nicely browned on top, remove them from the oven and allow to cool slightly.
For Icing: Mix the confectioner's sugar, milk and orange juice together to get a nice light icing and then drizzle over the almost fully cooled muffins. Allow to set before serving.