O is for Oatmeal Pancakes
BB2011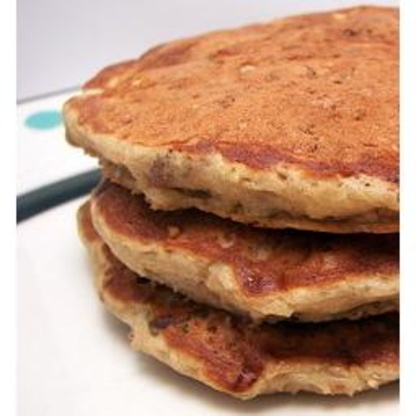 From the Gold Medal Alpha-Bakery Children's Cookbook.
Usually DH prefer plain pancakes, so I was surprised when he told me 5 stars. He really loved these pancakes. Me and DS also. They had a good taste and healthy. Next time I'll double the recipe to have more leftover. Thanks BB2011 :) Made for Bargain Basement tag game
Beat all ingredients in a medium bowl with a hand beater until smooth. (For thinner pancakes, stir in 2 to 4 tablespoons additional milk).
Grease a heated griddle, if necessary, with shortening, using a pastry brush. (To see if griddle is hot enough, sprinkle with a few drops of water. If bubbles skitter around, heat is just right).
For each pancake, pour about 1/4 cup of batter onto the hot griddle.
Cook until pancakes are puffed and dry around edges. Turn and cook other sides until golden brown. Serve with applesauce if desired.
Makes 10 to 12 pancakes.