Nymphadora's Shrimp Carbonara
Boomette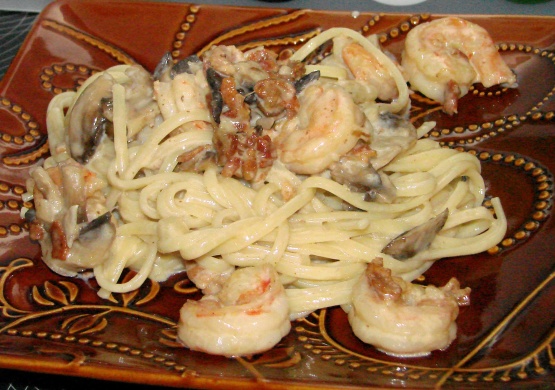 I love carbonara and love shrimp.

This is absolutely delicious! The flavors are wonderful. The recipe is a bit oddly written--the ingredients aren't listed in order, and there's an odd combination of USA and metric measurements--but that doesn't detract from the dish. It's easy to make, and has excellent flavor. Thanks for posting!
Chop bacon into bits and cook on medium high heat in a large non-stick skillet for approx 5 minutes or until nearly ready then add thawed shrimp and cook till just about done. Remove bacon and shrimp from pan and set aside.
Add olive oil to pan and sauté shallots, garlic and mushrooms in remaining bacon grease for a couple of minutes then add wine and cook it all down.
Add cream and thicken a bit then add back bacon and shrimp, stir in cheese.
Toss in cooked pasta (you may not use all of it if the sauce seems too thick for it) and serve when thickened and seasoned with pepper to your taste.