Nutty Pineapple Carrot Cake
Boomette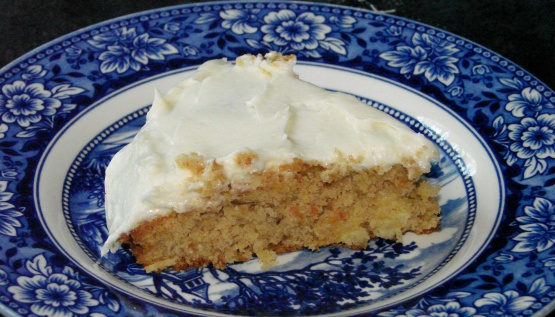 My mother in law used to make this cake at least once a week and no one would ever tire of it. It is one of my favorite desserts. She used to top it with cream cheese icing.

I made this cake to ring in the new year. I have made this many times and thought I had reviewed but....here it is. iT IS SO EASY! AND SO GOOD! I have prepared it with a little less sugar and then there are times I have made it with the recipe amount. I cannot make it now with the nuts because of medical conditions but it is very good with or without them. I have made frosting with cream cheese, a drizzle brown sugar glaze, plain or with Cool Whip. A great recipe!
Beat together oil and sugar, add eggs and beat well.
Add flour, baking powder and cinnamon, mix well.
Add remaining ingredients and mix well.
Pour into a parchment paper-lined, 9x9-inch pan and bake in a preheated 350 degree Fahrenheit oven for 45 to 50 minutes.