Food.com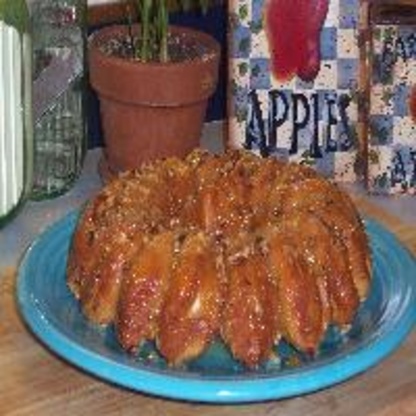 This cake is so pretty when it is done. It also is surprisingly good, that's why I had to share this.
Combine first 3 ingredients in a small bowl; set aside.
Place about 1 tsp cream cheese in center of each biscuit.
Fold biscuit in half over cream cheese and seal edges by pressing together.
Dip biscuits in melted butter.
Then dredge in sugar mixture.
Place bisquits, curved side down, in a single layer in a bundt pan sprayed with Pam.
Space biscuits evenly and do not stack.
Place any remaining biscuits around center of tube filling any spaces.
Drizzle any remaining sugar and butter over biscuits.
Bake at 350°F for 35-40 minutes.
Immediately invert onto serving plate.
Combine powder sugar and orange juice, stirring well; drizzle over warm cake.