Kelly M.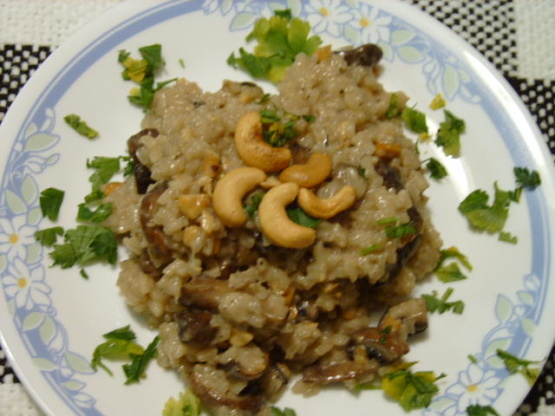 Mushroom risotto is one of my favorite dishes. The addtion of the cashews gives this just a slight crunch and really compliments the flavor. Don't let the thought of making risotto scare you, it does take a little time and attention, but it really is easy and not all THAT time consuming. It's a great accompaniment to an oven baked main dish, so that you don't have to worry about other stove top dishes.

Top Review by DCKiki
This was amazing! I had never made risotto before but I'm glad I picked this as my first recipe. It was so easy, and turned out amazingly creamy even without the added cream. I loved the crunch and the hint of nuttiness the cashews provided, and next time I think I'll toast them to get an even stronger flavor. Thanks for sharing!
Warm chicken broth either on stove or in microwave
Heat 2 Tablespoons butter and oil in large skillet or sauce pan over medium heat
Stir in shallots, cook for 1 minute to soften
Add mushrooms and basil and saute until mushrooms are softened, about 2 minutes
Adjust heat to medium high and add rice, salt and pepper, stirring constantly until rice is just starting to turn golden, 1 or 2 minutes
Add wine and stir until almost completely evaporated
Begin adding chicken broth, about 1/2 cup at a time
After each 1/2 cup addition, stir frequently, until broth is almost evaporated and add the next 1/2 cup
Do the same for each addition of broth, stirring frequently
Begin tasting the rice for doneness during the last two additions of broth for tenderness--it should be al dente-tender with a slight bite to it
If rice is not done after the last addition, continue cooking as above adding another 1/2 cup of broth until done
Remove from heat and stir in remaining tablespoon of butter, lemon zest, cream if using, cheese and cashews
Adjust salt and pepper as needed, remembering that if you are using salted cashews it will add to the saltiness of the dish
Serve immediately
Note: The cream will make it extra creamy