teresas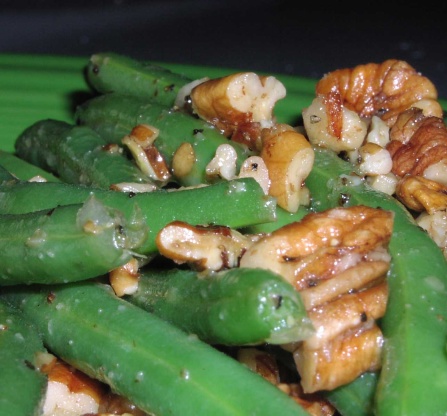 A great, easy recipe thanks to Emeril and the Food Network.

Well, this was a quick one thrown together last night, using the beans that are nearly always present in my fridge, we do enjoy beans! I didn't have pecans though, so I used cashews, which we love.... so it was probably a slightly different taste, but in essence, the same dish! Very nice, DD1 carefully put all her nuts to one side, I thought, oh, she doesn't like them... no, she was saving the best for last :lol: Thanks for a lovely recipe, hollyfrolly!
Bring a large saucepan of water with 2 teaspoons of salt to a boil.
Add the green beans and cook until just tender, about 5 minutes.
Drain in a colander and refresh beans under cold water.
In the same saucepan, melt the butter over medium heat. Add the pecans, Worcestershire sauce, remaining 1/2 teaspoon of salt and the black pepper and cook until nuts are golden brown- stirring frequently.
Add the green beans, stir and cook, until well coated and nice and warm, about 1 minute.
Remove from the heat and enjoy!