Redsie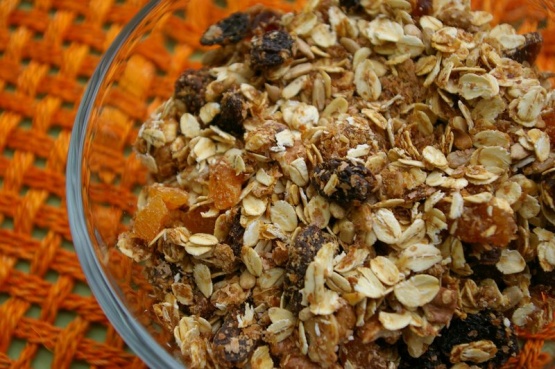 With no added fat and just maple syrup to sweeten, this is a very easy, healthful granola. Not to mention tasty! Be sure to serve with lots of vanilla non-dairy milk (try Sweet Vanilla Soymilk) and sliced banana!

Made this recipe as given & was well-rewarded with a great tasting granola! On your suggestion, I used half dark & half golden raisins, & the dates were Medjool! Very, Very nice, especially when I sprinkled it over some frozen vanilla yogurt & topped that with a bit of homemade blueberry sauce! [Made & reviewed in Healthy Choices ABC tag]
Preheat oven to 225°F.
Mix first six ingredients together and spread evenly on a couple of cookie sheets.
Bake for 15 minutes, then remove and stir. Bake another 15 minutes. While it bakes, assemble the other ingredients. (coat the 1/4 cup measure with oil before using it for maple syrup).
Immediately transfer oat mixture to a large bowl and stir in the dried fruit and cinnamon. Slowly, pour in the maple syrup and stir to mix well.
Let it cool and store in an airtight container where, my guess is, it'll keep up to a month. Like it'll last that long :-).