Nutty Egyptian-Style Rice
BarbryT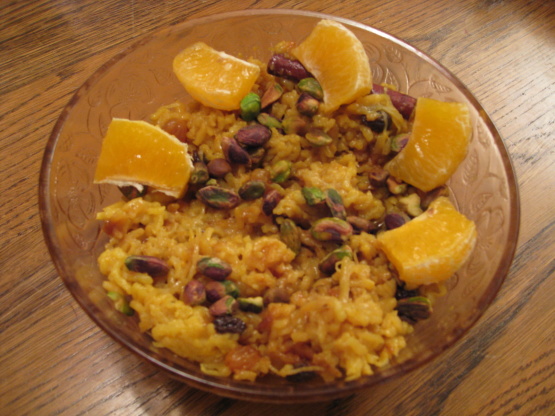 This aromatic nutty rice dish makes a great accompaniment to any spiced lamb or chicken dish, or any grilled or BBQd fish or meats. It also goes well with other vegetarian dishes. If you are serving it as part of a vegetarian meal, use vegetable stock. I recommend my Vegetable Stock Vegetable Stock, which I found only recently and am really excited about, because it's so different from other vegetable stock recipes I have used in the past. I have adapted this recipe from a recipe on an International Masters '1001 recipes for pan or wok recipe card' and I have posted it for the 2005 Zaar World Tour.

I followed Rita's lead on this recipe and she is right, this is just wonderful! I used left over rice and prepared it using your directions and some of Rita's. I did not add raisins, but did add some dried chopped apricots. This is a great and flavorful rice dish! thanks bluemoon!
Peel and finely slice the onion, and peel and crush the garlic; grate the rind of 1 orange and squeeze the juice and cut the other orange into wedges.
Melt the butter in a deep pan or wok, preferably non-stick, sauté the onion and garlic for 2 minutes; then add the cinnamon stick and the rice, cook for 2 minutes, stirring continuously, until the rice is thoroughly coated with the butter and mixed in with the onions and garlic.
Add the orange rind and juice, the bay leaves and sultanas to the rice.
Stir the turmeric into the stock, then add the stock to the mixture, bring to the boil, then reduce the heat, cover and simmer for 15 minutes, or until the rice is cooked and all the liquid has been absorbed.
Transfer to a serving bowl and keep hot; covering the bowl with foil will suffice.
Clean the pan or wok (if you are using a non-stick pan or wok, all you need to do is to wipe it clean with paper toweling), add oil and heat through, then add the nuts and sauté for 1 minute, or until they are lightly toasted.
Serve the rice garnished with orange wedges, coriander sprigs and pistachios.
Variation: To add a rich golden colour and delicious aroma to this dish, replace the turmeric with saffron strands soaked in hot water.