PetsRus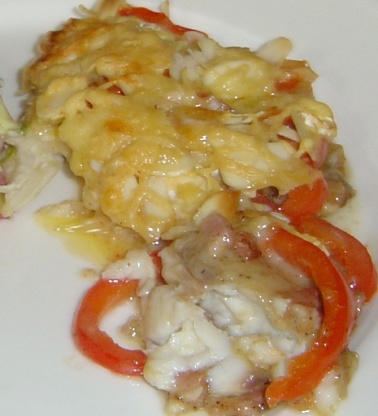 For those who like cheese and wine,so does this fish! Try brandy or white vermouth instead of the wine,for more crunch substitute flaked almonds for the pine nuts.We enjoy this with a nice glass of Sauvignon Blanc.

This was awsome...easy to make, great taste, low in carbs and converted to serving a single serving easily. (hate left overs) I just had to join recipezaar just to comment on this. Being single I find it hard not to depend on fast food. I have made a promise to myself to seek out recipes and try them. This is a keeper.
Preheat oven to 400 degrees F.
Wash the cod,pat dry with paper kitchen towel.
Sprinkle with the lemon juice,salt and flour them.
Melt the butter in a frying pan,fry the fish a few minutes on both sides until golden.
Place them in an ovenproof dish,top them with the peppers,bacon and the brie.
Pour over the wine,sprinkle with the pine nuts and then the with the parmesan cheese.
Bake for 15 to 20 minutes in the oven.