Derf2440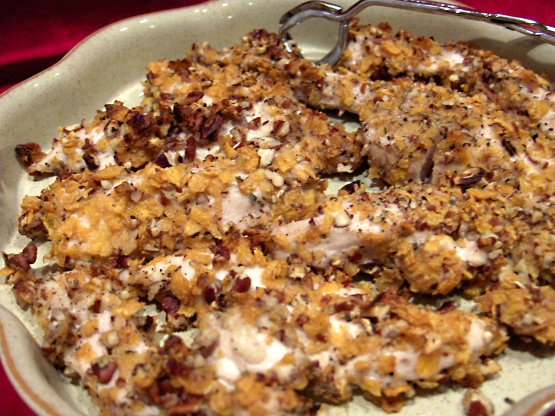 Include these chicken bites at your next buffet party or feature them as a main dish (enough for five main-dish servings). This recipe from Better Homes & Gardens' New Dieters's Cookbook couldn't be any easier or quicker...and, at 53 calories there is no guilt!

Great taste to these! I made chicken tenders, which are slightly larger, so had to bake them longer. The coating held up nicely and stayed crisp (I turned them once or twice during baking). I had to substitute garlic salt for powder because I didn't have any powder, so I did not add the optional salt. I also added about 1/4 tsp onion flakes to the breading. My whole family enjoyed these and we will be making them again. Thanks!
Preheat oven to 400 degrees F.
In a shallow dish combine cornflake crumbs, pecans, parsley, garlic powder and optional salt. Dip chicken strips in milk, then roll in crumb mixture. Place in a 15x10x1-inch baking pan.
Bake for 7-9 minutes or until chicken is tender and no longer pink.
If desired, serve with ranch-style dressing.